General Charles Cruft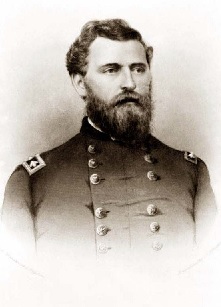 Charles Cruft was born in Terre Haute, Indiana, January 12, 1826 to John F. and Elizabeth A. Cruft. He was their eldest son. The 1850 U. S. Census shows the Crufts living in Harrison township with following persons living in the same household; John F. age 49, Merchant born in Massachusetts; Elizabeth A. age 46 born in Kentucky; Charles age 24, Lawyer; Edward age 17, Clerk; Lucia E. age 10; Frances W. age 7: John W. age 5; Mary E. age 24 born in Massachusetts, and a black female, Ann Robinson age 9.<![if !supportFootnotes]>[1]<![endif]>
Charles received his early education in Terre Haute, his last instructor being the Rev. Robert B. Croes, rector of St. Stephen's Church. He attended Wabash College at Crawfordsville, Indiana and graduated in 1843 at the age of 17.<![if !supportFootnotes]>[2]<![endif]> He received the honorary degree of Master of Arts in 1846. After returning home from college he was an assistant teacher in the academy of Rev. Croes for a few months. Later on he became a bookkeeper in the local branch of the Old State Bank of Indiana, of which Judge Demas Deming was its President. It was during this period that he began the study of Law with attorney William D. Griswold as his preceptor. He was admitted to the Bar in 1848.<![if !supportFootnotes]>[3]<![endif]> Mr. Griswold was President of the St. Louis, Alton & Terre Haute Railroad and requested that Charles Cruft succeed him as President, which he held for several years. In 1857, Charles wrote a brief history of Terre Haute and included a scholarly narrative of the 1812 Battle of Fort Harrison, for the first city directory that was published in 1858.
In 1861 Charles Cruft purchased the Terre Haute Express newspaper from Robert N. Hudson. Charles owned the paper for several years, but never actively engaged in its publication. In 1867 he had the name changed to the Terre-Haute Daily Express. He sold the paper in 1872 to the Express Printing Company.<![if !supportFootnotes]>[4]<![endif]>
Early in 1861 he and attorney John P. Baird formed a law partnership, which continued until the death of Colonel Baird in 1881. Of this firm it was quoted "That the brilliant genius of Col. Baird as a pleader and court advocate, was equaled only by General Cruft's ability as an advisor and counselor, and to the latter fell all the office details in the innumerable cases in which they acted". The firm held a "very high reputation" throughout the State.<![if !supportFootnotes]>[5]<![endif]>
It was on a visit to Washington D.C. in 1861 that Charles Cruft, the lawyer, witnessed first hand the battle of Manassas or Bull Run.<![if !supportFootnotes]>[6]<![endif]> Charles personally knew the Indiana Governor, Oliver Perry Morton and was able to receive a Colonelship of a 7th Congressional District Volunteer Infantry Regiment, the 31st Indiana. The 31st Indiana Volunteer was mustered in on September 20, 1861 at Camp Vigo in Terre Haute and was immediately sent to Evansville, then on to Henderson, Kentucky and later in the year to Calhoun, Kentucky. Colonel Charles Cruft was elevated to Brigade Commander before the regiment's first battle at Fort Donelson. At the battle of Shiloh or Pittsburg Landing, Colonel Cruft was shot through the left thigh and received a slight wound on the head and shoulder, "but nobly remained at the head of his regiment, as though he had not received a scratch".<![if !supportFootnotes]>[7]<![endif]> From his gallant leadership Colonel Cruft was promoted to Brigadier General on July 16th 1862. He led the 31st Indiana off and on as Brigade Commander in several more battles during the Civil War. At the battles near Richmond, Kentucky he led a Brigade of inexperienced regiments into the disastrous conflict, he being one of the few Union Generals to lead with distinction there. He also received a wound during this battle. At the battles of Franklin and Nashville, Tennessee, General Cruft was a Provisional Division Commander of which 2 Colored Brigades were in the division. General Cruft was mustered out of the service in August of 1865 and was brevetted Major General, he reaching the highest rank of any Vigo County, Indiana native. This honor was conferred upon him personally by Abraham Lincoln in March 1865 after delivering his troops to General W. Tecumseh Sherman at Goldsboro, North Carolina.<![if !supportFootnotes]>[8]<![endif]> After the war he returned to his law practice with his old law partner, Colonel Baird. John Baird was Colonel of the 85th Indiana Volunteer Infantry.
Charles Cruft became a close friend of Chauncey Rose, a Connecticut native of Scottish descent. Chauncey who was a businessman, entrepreneur, builder of railroads, leading citizen and philanthropist came to Indiana in 1817. With the assistance of Charles Cruft, "The Terre Haute School of Industrial Science" was established on September 10, 1874. The school was soon renamed Rose Polytechnic Institute.<![if !supportFootnotes]>[9]<![endif]> Charles was appointed by Chauncey Rose to be one of the original members of the board of Managers and was relied upon for his judgment in the formulation of the plans for the establishment of Rose Polytechnic Institute, the "first private engineering college west of the Alleghenies". After the death of his partner Colonel Baird, Charles retired from active practice of law and devoted a large portion of his time to Rose Poly'.
Charles was a member of the "Society of the Army of the Cumberland" from its early beginnings. He delivered the annual address at the 2nd reunion held at Chicago, Illlinois in 1868.<![if !supportFootnotes]>[10] <![endif]> He also belonged to the Grand Army of the Republic (G.A.R).
Along with General Charles Cruft's other interests described above, he also was an active member in Masonic organizations. His memberships were as follows; Terre Haute, Indiana Lodge No. 19; Chapter, Royal Arch Masonry No. 11; Council of Royal and Select Masters No. 8 and Commandery No. 16, Knights Templar of which he was past commander. He also served as grand commander of the Grand Commandery, Knights Templar of Indiana in 1873.<![if !supportFootnotes]>[11]<![endif]>
Charles Cruft passed away on Friday, March 23, 1883 at his home and was buried at Woodlawn Cemetery in Terre Haute. Some histories say he died of heart disease, but his death certificate says he died of Hemoptysis.<![if !supportFootnotes]>[12]<![endif]> Hemoptysis is the coughing up of blood. Charles Cruft never married. Cruft street and Cruft school in Terre Haute are named after him. The March 25th New York Times posted his obituary as follows;
THE DEATH OF GEN. CRUFT
INDIANAPOLIS, March 24, -- The death of Gen. Charles Cruft, of Terre Haute, yesterday, was sudden and unexpected. He was taken sick on Tuesday at his office, but walked home and remained in his library, where he sat most of the time in his chair. His condition was not serious until Wednesday. His physician did not think it best to remove him, and a bed was arranged for him in the library. The end came a few minutes before 4 o'clock yesterday morning, so quickly that his mother could not reach him from a room above. Gen. Cruft was a little over 57 years old, and was well-known throughout the country as a leading lawyer and politician and a distinguished soldier during the war.<![if !supportFootnotes]>[13]<![endif]>
Photo Information: The engraving on this page is from a photo by Wenderoth and Taylor, engraved by J.C. Buttre, New York. It was made between 1861 and 1865 by Buttre, John Chester, 1821-1893, engraver.
Compiled by Dennis Hutchinson © 2012, rev. 2015
Sources: