Following in the 31st Indiana's Footsteps
(Page 1, Colonels of the Regiment)
This and the following pages contain photos of monuments and markers related to the 31st Indiana Volunteer Infantry. They are here to help one to retrace their steps through history and document where these monuments and markers are located and what they look like. I recommend that you visit National Battlefield parks, State Parks and other sites. Links to Battlefield web sites can be found on the "Links" page of this site. I also recommend that you read the short history of the 31st Indiana.
All photos were taken by Dennis Hutchinson or Brian Hutchinson.
---
To begin our journey we will start in Terre Haute, Indiana just a few blocks from their mustering camp, Camp Vigo, with the tombstone of General Charles Cruft.
| | |
| --- | --- |
| | This is the tombstone of General Charles Cruft, 1st Colonel of the 31st Indiana. He is buried in Woodlawn Cemetery in Terre Haute, IN. Woodlawn is located on US Hwy 41 (3rd St.), just a few blocks North of the Courthouse. Woodlawn is also very near where Camp Vigo was located. The camp was located at the old Fairgrounds near, present day, Collet Park. |
Colonel Cruft was promoted to Brigadier General in July of 1862. Lieutenant Colonel John Osborn was then promoted as Colonel of the Regiment.
---
This is Colonel John Osborn's grave at Greencastle, Indiana. He died June 11, 1887 at the age of 78 years.
---
Let's now travel to Bowling Green, Indiana. Colonel Osborn resigned his commission in July of 1863. Lieutenant Colonel John T. Smith was then commissioned Colonel. Smith was Colonel of the regiment the longest of any of the four Colonels of the Regiment, he later resigning in March of 1865.
| | |
| --- | --- |
| | At Bowling Green, Indiana in the Bowling Green Cemetery is Colonel John Thomas Smith's tombstone. Colonel Smith was the 3rd Colonel of the regiment. He wrote and published the book, "A HISTORY OF THE Thirty-First Regiment of Indiana Volunteer Infantry IN THE WAR OF THE REBELLION". |
---
James R. Hallowell then became Colonel of the regiment serving in this position until the Regiment was mustered out on December 8, 1865 at Victoria, Texas.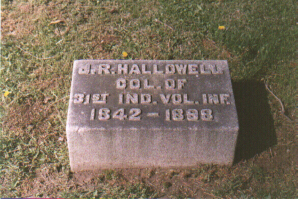 Colonel James R. Hallowell's grave in Crawfordsville, Indiana.


[Camp Calhoun & Ft. Donelson ] [ Shiloh ] [ Murfreesboro ] [ Chickamauga ]
---
This site was written by:
Dennis Hutchinson

I am interested in anything connected with the 31st Indiana Vol. Infantry, or if you have any questions please feel free to contact me by E-Mail.
I am especially interested in photos of soldiers from the 31st Indiana in their wartime clothing. I am also interested in any letters, diaries, or biographical information on 31st Indiana soldiers
Copyright © 1998 - 2012 by Dennis Hutchinson. All Rights Reserved. This site may be freely linked to, but not duplicated in any fashion except by the author's consent. When permission is given, this copyright statement must remain with the document.
Last Update January, 2012
Return to the 31st Indiana Home Page